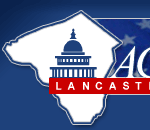 Friday, September 29, 2023

Lancaster County ACTION is a group of concerned men and women who have joined together to help promote the election of men and women to local, state and national offices who will support the Judeo-Christian principles on which this nation was founded.
ACTION is an acronym meaning

A

mericans for

C

hristian

T

raditions

I

n

O

ur

N

ation. Our goal is to educate and motivate Christians of Lancaster County to become involved in civil Government. As we join together, we can once again lift up a standard of righteousness in our government.


©2023 Lancaster County ACTION. All rights reserved.