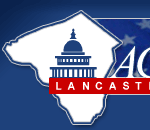 During the past century and alarming doctrine has crept into the church which taught that Christians should not be involved in our civil government. As a result, we have seen our foundations begin to crumble, and many of the liberties we have enjoyed are now in serious jeopardy. The early documents of the nation were firmly rooted in God's word, the Bible.


"it cannot be emphasized too strongly or too often that this nation was founded...on the gospel of Jesus Christ" - Patrick Henry
Please join us today by sending in the application form below. A year long family membership is only 20 dollars.


Please send to:

Lancaster County ACTION
P.O. Box 29
Elizabethtown, PA 17022

©2023 Lancaster County ACTION. All rights reserved.